Pick Your Holiday Craft Night

Pick your Holiday  Craft
 Friday December 8th 6:30 -9:00 pm
 Holiday Candle Dough Bowl only 7 spots available for this fun class , learn candle making and make a small craft (included ) while you wait for your candle to set .. then embellish it with available toppers OR 
Pick A Ceramic Craft from the menu ..prices vary and this is the last of this years ceramic inventory 
limited availability so get your tickets quick
Buy Tickets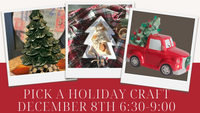 Testimonials
Becca painted my bedroom furniture and it is just beautiful. Instead of buying new, she updated the look and it is prettier than what you find in stores. She was neat, organized and has a great sense of style. I highly recommend her work.

Pat Resseguie
Becka has an amazing eye for color and design. She painted my kitchen cabinets and transformed my kitchen. She also painted my tile backsplash! YES! My backsplash!! My kitchen looks like we spent thousands on new cabinets and tile... and it's all paint and talent from Becka! Thank you so much!! I'm in love

Laura Zaferakis
Well, Becka , I certainly made the right choice in picking you for my kitchen cabinet painting project. They look beautiful! Everyone who walks in says one word  "wow"! You worked diligently to get the job finished with no mess or cleanup on my end . You have that eye for color and your creativity to transform is remarkable. I will call you again and again for all of my painting re-do's . Thank you so much for the best kitchen makeover ever !

Lorraine Yozzo
My husband and I found the most beautiful items in the amazingly wonderful store. You find yourself stepping into this magical place to pick up som amazing gifts.

Lucy Brown
"Let's face it, it's what you do to your houses that make them so great!! You've got style and good taste wrapped up with a little edginess."

Mary Lindberg
Past Projects

I would love to give your vintage pieces a new vibe
Funky Industrial Vibe

This piece created for a game room
BarnWood Faux Finish

I gave this dated wood paneling a softer , brighter vibe
Past Projects
I would love to give your vintage pieces a new vibe
Contact me here
Funky Industrial Vibe
This piece created for a game room
BarnWood Faux Finish
I gave this dated wood paneling a softer , brighter vibe
Location
Millers Crossing Design Studio
3160 Cold Springs Rd Baldwinsville, NY 13027
Open by Appointment or Chance for the summer
text 315-399-3717 to schedule
millerscrossingdesign@gmail.com

Meet the Owner , Becka Miller
My main focus of design is vintage pieces. I love to take a forgotten piece and give it a new life using layers of colors and textures These pieces add such depth and warmth when mixed into modern day homes.
I want you to love your home and your furniture. I can paint your piece or teach you how.. either way I want to help you achieve a statement piece that blends and compliments your decor 
I hope that people will be inspired by my ideas, my words, and my vision to create something of their own.