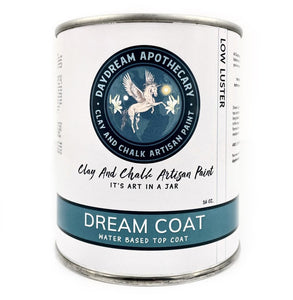 One PINT , 16 ounces Use over Daydream Apothecary Paint, stain or raw wood. Dream Coat is formulated to be used without water. Diluting with water is not recommended. Apply 2-3 coats for optimum performance and durability. Daydream Apothecary Iconic Brushes are suggested for the best results.  Allow Dream Coat up to 21days to completely cure. Sold At Miller's Crossing Design, Baldwinsville, NY and other Daydream Apothecary Stockists.
At Daydream Apothecary we're all about a balance of beauty and strength. Now that you've made it pretty, let's make it STRONG!
Dream Coat is a clear, self-leveling water-based topcoat that creates superior durability and a long-lasting finish. Self-Cross linking Acrylic Resin is the magic ingredient that undeniably gives our formula more adhesion, hardness, gloss, and resistance to UV, heat, and solvents.
AND... It's NON YELLOWING